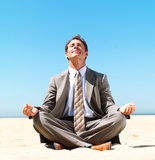 Balance Body, Mind & Spirit for Perfect Health
The connection between body, mind and spirit is an important element in maintaining overall health and well-being, as well as personal growth. Using different techniques will make the elements of holistic health come into alignment. It will help you to increase your self-confidence, improve personal growth and get in touch with your inner well-being. You will slowly develop what is really an inner poise, a growing calm in the face of life's endless challenges. Balance and peace will be achieved in your life. As a result you will feel more happy, grateful and joyous about life.
Articles on Mind & Spirit
Stress is a common part of life and although we cannot rid ourselves of it we can learn better ways to cope. There are a number of factors that contribute […]

The time when your mind and body are in a serene, relaxed state is referred to as inner peace. This state allows your "mind, body and spirit" to have a […]
Mind & Spirit
It has been reported in Psychological Medicine by researchers from University College London that individuals who have lower IQ levels suffer from poor health and are less happy in comparison […]
Body Mind and Spirit
If the three elements: body, mind and spirit become imbalanced, problems arise and you may feel unhappy and even get sick. For example, many people focus on their physical health by eating well and exercising on a regular basis, but neglect mind and spirit. This may result in health problems, such as heart disease or other stressrelated diseases. We need to focus on all three aspects: body, mind and spirit if we want to stay healthy and include relaxation exercises for the mind to get rid of all the stress that we carry along with us. Holistic health is not only about physical health. It can also help us feel more content and happy. If you find that there are issues in your life that are making you unhappy or your personal growth has stalled, take a moment to assess the health of your body, mind and spirit. Spend a little time each day to practice holistic health methods. This will improve your sense of well-being and can help you focus on personal growth and help you bring your life back into alignment. By maintaining a good balance between body, mind and spirit you will achieve a sense of well-being. You will feel a deeper connection with yourself and get clarity that can lead to personal growth.
Holistic Health Techniques
In our modern world, it can be difficult to balance body, mind and spirit because of the distractions and all the stress that we encounter on a daily basis. Luckily, we have access to many holistic health techniques that can balance our energy and improve our overall well-being:
Relaxation Techniques: When a person uses relaxation techniques, they are able to get rid of stressful thoughts and allow their body to rejuvenate and re-energize. Even five minutes of daily relaxation can improve your body, mind and spirit connection. Relaxation also assists with personal growth.
Meditation: There are various methods of meditation which can be used to relax the body, mind and spirit. When meditation is used effectively, it will help you to get in touch with your inner spirit and find the balance that you desire. Meditation helps you to focus on personal growth, to improve well-being.
Deep Breathing: The practice of deep breathing improves health by delivering larger amounts of oxygen to the body through the blood stream. Deep breathing is most effective when it is combined with relaxation and meditation.
Spa Services: Even though going to the spa may seem like a superficial activity, it is actually very rejuvenating to the body, mind and spirit. Getting spa services like massage, acupuncture treatments, or aromatherapy, can help to reduce stress levels and improve your overall well-being, balance and connection.
Music: Listening to uplifting music has a strong balancing affect on the well-being of the body, mind and spirit. Personal growth can occur while listening to music. Notice how you feel when you listen to various types of music, and take some time each day to relax and listen to good music.
Holistic Health History
The history of practicing different holistic health techniques to balance body, mind and spirit date back thousands of years. Many cultures and various medical practices have recognized the importance of maintaining a healthy body, mind and spirit and focused around achieving balance between these three elements in order to create optimal well-being. Examples of holistic health techniques include the practice of yoga through the ayurvedic philosophy. This holistic health practice dates back to ancient India and it has had a strong influence on medical practices throughout the southern region of Asia. Other historical holistic health methods to balance body, mind and spirit include yoga, tai chi, qigong, and acupuncture.