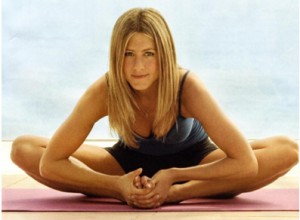 The star actress Jennifer Aniston has a body that many would call a perfect looking body. She looks very healthy and strong. Jennifer Aniston is 41 years old but her body doesn't show that at all.
Jennifer exercises everyday
Her secret is working out everyday, thus following the food pyramid guidelines. She has a toned physique of someone years younger. Jennifer Aniston makes fitness a huge priority in her life. She runs and does work out, but she is also a big fan of yoga. Jennifer Aniston tries to exercise 7 days a week.
Although this may sound excessive, fitness experts recommend daily exercise in some form. The habit of exercising every day will in time feel normal and great. Take a day off from your weekly fitness routine and go for a long relaxing walk instead. This is a good and healthy way to move your body everyday of the week.
Jennifer does cardio exercises to burn calories
Jennifer Aniston starts off on the treadmill and elliptical trainer. She does about 20 minutes of cardio interval training on her two favorite fitness machines. She usually runs 5.7 mph at 1.5 incline. This boosts her metabolism and gives her muscles a warm-up before her intense yoga class.
Jennifer does Yoga to tone her body
Jennifer Aniston is well known for her toned and lean arms and legs. Yoga is the secret to her great figure. She does about two hours of yoga every other day with her trainer. Yoga has also improved her posture.
Jennifer avoids processed foods 
Jennifer Aniston eats a healthy diet and avoids all kind of processed foods. Her diet is high in protein and low in carbs and usually consists of lean protein, fruits and vegetables. She follows the Zone Diet that aims for a dietary ratio of 40% carbs, 30% protein and 30% fat at every meal.