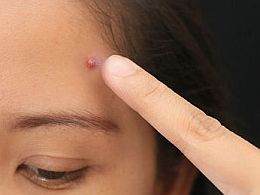 If you are suffereing from acne you are probably looking for different ways to get rid of acne. You can actually try using apple cider vinegar for acne as it is a 100% natural beauty product that is perfect if you want to avoid chemicals on your skin. This inexpensive "green" beauty product is also great if you want to save money and still look fabulous.
There are different ways of applying the vinegar. You can apply it directly to your skin or actually have an "apple cider vinegar acne drink".
Benefits of Apple Cider Vinegar for Acne

Apple cider vinegar is an effective anti-bacterial and anti-septic beauty product. It contains magnesium, calcium, potassium, iron, fluorine, vitamin A, and alpha-hydroxy acids that are all important for skin health. Vitamin A and alpha-hydroxy acids in apple cider vinegar increase blood circulation in skin and repair damaged tissues. Apple cider vinegar cleans pores, removes blackheads, peels outer layer away, and makes blemishes less noticeable. It has pH-balancing properties which are important to avoid acne breakouts, and is perfect for both oily and dry skin making it good skin care option.
Drinking Apple Cider Vinegar for Acne

Apple cider vinegar can be ingested or applied directly to the skin. If your acne is caused by toxins due to an unhealthy diet, drinking apple cider for acne on a regular basis may help detoxifying your body and skin. For a skin detox, mix apple cider vinegar and water. Add 2 table spoons of apple cider vinegar in to a glass of water or a cup of tea, and drink the mix. Add some honey if you prefer the taste. Rinse your mouth afterwards to remove excess acid and avoid damage to tooth enamel.
Apple Cider Vinegar Toner
If you use apple cider vinegar as a skin toner, your skin will become softer and more hydrated and you will have fewer acne breakouts. The alpha hydroxyl acids have exfoliate properties and remove dead skin cells that clog pores which can lead to acne. The anti-bacterial properties in apple cider vinegar are also beneficial when used as a skin toner, since acne is caused by bacteria. The astringent qualities will absorb excessive oil from skin and tighten pores, to avoid clogged pores and acne breakouts.
Make your own apple cider vinegar toner for acne as follows:
Dilute the apple cider vinegar with ¼ parts of vinegar and ¾ parts of water, before applying it to your face. Instead of water, use the antioxidant rich green tea to fight the aging process at the same time. Apply the mix to the skin with a cotton pad. The apple cider vinegar acne toner has a drying effect so make sure to moisturize your skin with an oil-free skin lotion afterwards. Apply the skin toner mix twice a day, once in the morning when you get up, and again just before bed time. The unused skin toner mix can be stored in a glass container with a lid.
Other benefits of Apple Cider Vinegar
There are other reasons to invest in a bottle of apple cider vinegar. Apple cider vinegar can be used for dry scalp, dry hair, and dandruff. Apple cider has also many health benefits and can help with arthritis, stiff joints, headaches, digestive problems, and cholesterol levels.