Is it possible to freeze a baked or unbaked quiche? Yes, you can freeze quiche either way. It is really not complicated to do, and it is also quite simple to prepare after you take it out from the freezer. Let's take a closer look how you go about freezing quiche.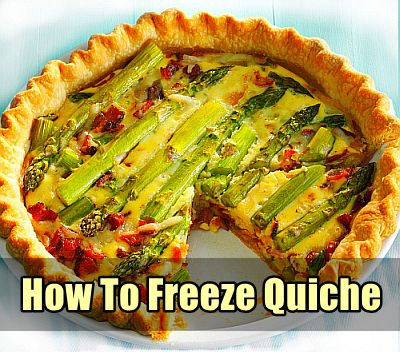 How To Freeze Quiche
What is the best way to freeze quiche? Well, as we mentioned, you really have two options here. It's either to freeze quiche after baking or to freeze quiche before baking. The most common way would probably be freezing quiche after it is baked.
1. Freezing Quiche After Baking
This basically means that you would assemble the recipe and bake the quiche of your choice. Choose a metal, aluminum foil, or CorningWare pan when you bake your homemade quiche. You could either fully bake the quiche as you would normally do for a meal, or pre-bake it so it is not fully cooked.
Fully Baked: Allow fully baked quiche to cool before preparing it for the freezer. Once it has cooled, wrap it tightly in foil paper or freezer paper and place it in a freezer bag. Remove as much air as possible. Label the quiche with the date and contents.
Par-Baked: A par-baked quiche would be baked to about 75% of the normal cooking time. Quick freeze it and store it the same way as you would do with a fully baked quiche.
Make sure you don't stack anything on top of the quiche or it might get squashed. If you decided to freeze quiche after baking, it will be good for about 1-2 months in the freezer.
2. Freezing Quiche Before Baking
You can freeze uncooked quiche if you aren't going to bake it immediately. Just put your fully assembled quiche on a tray and carefully insert it in the freezer. After an hour or so it should be more solid and easier to handle. You can then cover it in freezer paper or foil, set it in a freezer bag, and then put it back in the freezer.
How To Reheat A Frozen Quiche
These are the ways to go about reheating frozen quiche that is fully baked, par-baked, and unbaked. Add or subtract a few minutes from the recommended minutes depending on the thickness of the quiche and the oven you are operating.
Fully Baked – Preheat the oven to 350-400 F. Put frozen quiche in the oven and let it heat for about 15-20 minutes, or until it is heated through.
Par-Baked – Oven is to be preheated to 350-400F. Insert frozen quiche in the oven let it sit for about 25-30 minutes.
Unbaked – For the unbaked quiche, follow the instructions of your recipe for the oven temperature. Place the frozen quiche in the oven, and add 10-20 minutes of extra oven time.
For the baked quiche versions, you could also thaw them in advance. Just place the quiche in the fridge overnight, and then reheated in the oven once it is dinner time. Thawing before heating may cause the crust to get a little bit soggy.
If you freeze quiche in tempered glass, remember that the processes of going from cold to hot too fast may cause crackings in the glass. It might then be better to insert the quiche in a cold oven and then start the heating process.
You could also cover the frozen quiche with aluminum foil to prevent the top from burning.
FAQs
For how long can you freeze quiche?
A home made quiche should hold well in the freezer for up to 3 months.
Can you freeze quiche Lorraine?
Yes, any quiche can be frozen, just follow the instructions in this article.
Can I reheat quiche in the microwave?
Using the microwave is also a way to reheat quiche, but only if you have slices of quiche or really small quiche portions. The microwave will do the job to bring it to a temperature that is warm. You will have to microwave the quiche for around 2 minutes in medium heat. But if you are reheating a normal sized quiche, just use the reheating instructions previously mentioned.
Is it possible to buy frozen quiche in the stores?
For those who are not in to cooking, you have the possibility of buying it in the stores. Not every store has them, but a decent sized supermarket should sell them.