Freezing cream cheese might not be something you have considered in the past. You can freeze cream cheese but once it is thawed the texture will not be the same. It will separate and be watery, far off its original texture, but the taste will still be there. It might not be the best type of cheese to freeze but you can certainly use it in many recipes, and with some magic even use it as a spread.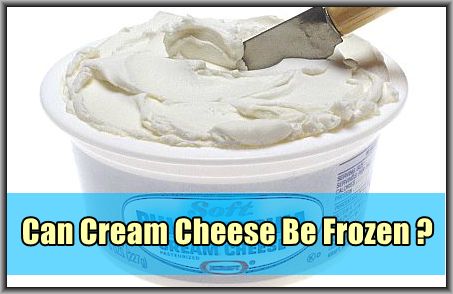 How to Freeze Cream Cheese
You will want to freeze cream cheese tightly sealed in either foil, plastic wrap, or freezer wrap. Mold the wrapping as close to the cream cheese as possible. Once it is sealed, place it in a freezer bag. Freeze cream cheese in small quantities if you are not intending to use lots of it. Don't forget to label your packaging with the contents and date.
If you have plans to freeze cream cheese ahead of time, it would make more sense to purchase it wrapped in blocks instead of a tub style container.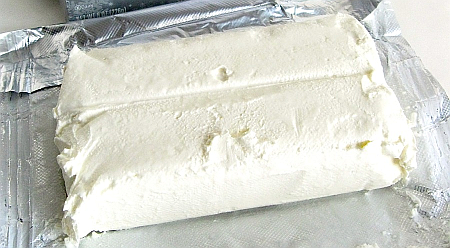 For How Long Can You Freeze Cream Cheese?
For best results use frozen cream cheese within 2 to 3 months. Many cheese types can actually be stored for up to 6 months. Just realize that the texture of the cheese will change. Frozen cream cheese may be crumbly and a little dry, especially if it is the lower fat variety so you might want to consider freezing cream cheese that is a little higher in fat.  Obviously there is a trade-off there as far as nutrition including more calories and more saturated fat. Either way, the flavor should hold.
How To Defrost Cream Cheese
Just place the frozen cream cheese in the refrigerator to defrost. You can also defrost it more quickly in the microwave. This might be more appropriate for when you are using cream cheese in a warm-dish like a casserole or an appetizer. Certain areas on the cream cheese can actually begin to cook while other areas are defrosting so keep this in mind if you choose to use the microwave.
How To Make Cream Cheese Smooth
So let's say you have just thawed your favorite cream cheese. What's the magic trick to bring your cream cheese back to a smooth texture and be able to spread it nicely on some tasty crackers? Well, this trick might not work on all cream cheeses, as it will depend on the brand, amount of fat, and the ingredients of the cream cheese.
Just use a hand-mixer to improve the texture! Doing this should return it to the creamy state it had before freezing.  If you don't believe it, see what one of our readers did!
Ideas for Frozen Cream Cheese
Cream cheese can be an ingredient in many recipes including dips, spreads, baked dishes and casseroles, as part of a snack, and in desserts. Although it may not be known for its nutritional power, freezing cream cheese is great way to prevent wasting if you have leftovers that you don't plan to use right away. Now you can buy cream cheese in bulk and freeze it for your next cheesecake recipe.
FAQs
Can you freeze Philadelphia cream cheese?
Even though, certain resellers of Philadelphia cream cheese say no. People have successfully frozen Philadelphia cream cheese and used it for many recipes.
Can cream cheese be frozen in bricks?
Yes, bricks or blocks of cream cheese can go in the freezer for storage.