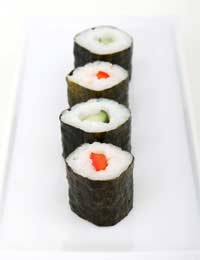 Sushi is great for weight loss
Sushi is low on calorie and a great food choice if you want to lose weight. Sushi is also rich in nutrients.
Nutrition rich Sushi
The Japanese Nori seaweed is high in protein, contains carbohydrates and almost no fat. It is rich in vitamins A, B2, niacin, B12, plus C and D. The vitamin-rich seaweed can lower the cholesterol level.
Simple Sushi Recipe
Sushi is not that hard to make. Discover just how good home-made sushi can taste with a quick and simple recipe by Simon Rimmer's from Good Food Live.
Simple Sushi
Servings: 4
Level of difficulty: Intermediate
Preparation Time: 30 minutes
Cooking Time: 15 minutes
Ingredients
Japanese sushi rice: 7 oz (200g)
Salt and fresh ground black pepper
Rice 1.7 oz (50ml)
Wine vinegar
Sugar: 1.8 oz (50 ml)
Nori seaweed: 6 sheets
Wasabi: 3-4 tsp
1 Cucumber, deseeded and cut into matchstick strips
Smoked tuna: 2.5 oz (75g), sliced into strips
To serve
Japanese pickled ginger
Japanese soy sauce
Wasabi
Sprigs of fresh coriander
How to do it
1. Rinse the sushi rice thoroughly. Drain, place in a saucepan, add 10.1 oz (300ml) water, bring to the boil, cover, reduce heat and simmer for 12 minutes until rice tender.
2. Transfer the rice to a bowl and allow to cool slightly. Season with salt and freshly ground pepper. Add the rice wine vinegar and sugar and mix.
3. Spread wasabi paste to taste on the nori sheets.
4. Place one of the nori sheets on a sushi mat. Leaving 1 inch (2.5 cm) gap at the base, spread a line of rice about 1.2 inch (3 cm) wide onto the nori sheet.
5. Press a line of cucumber and smoked tuna down the middle. Top with more rice and roll up tightly. Repeat the process until all the nori sheets have been filled.
6. Cover the sushi and chill for 30 minutes to set.
7. Slice the sushi rolls across. Serve with pickled ginger, soy sauce, wasabi and fresh coriander.