During winter season it's very important to make sure that you get extra vitamin supply through your diet. This Vitamin Booster is a very healthy drink filled with important nutrients. It is also very easy to make. All you need is this:
Ingredients for one Vitamin Booster (one drink):
2 Carrots
1 Orange
1 Apple
0.5 Lemon
1 teaspoon of Honey
0.2 cup of Water (5 dl)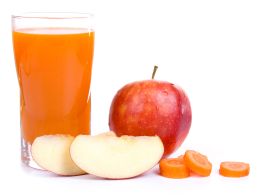 How to make your Vitamin Booster:
Peel the carrots and the orange
Core the apple
Cut the fruits into small pieces
Squeeze the lemon in a blender
Pour the remaining ingredients into the blender and mix it all together
Mix well until it looks smooth
Why is this Vitamin Booster so rich in nutrients?
Nutrients in Carrots
Carrots contain the antioxidant called beta-carotene, which gives the orange color, which the body is converted to vitamin A. The mature and red carrots contain more Beta-carotene than the young early harvested. Carrots also contain other Antioxidants such as vitamin B1, vitamin B2, vitamin C, vitamin D and vitamin E. All these antioxidants protect your cells against the effects of free radicals damage and heal your body. Carrots also contain potassium, magnesium, vitamin B6, folic acid (vitamin B9), thiamine (vitamin B1). In other words, carrots are a very healthy food.
Nutrients in Oranges
As we all know, oranges are very rich in vitamin C. Oranges also contain another powerful antioxidant such as beta-carotene. This healthy fruit also contain folic acid (vitamin B9), thiamin (vitamin B1), calcium, magnesium and potassium.
Nutrients in Apples
Apples are a rich source of dietary fiber. A raw unpeeled apple contains vitamin A, vitamin C, folic acid (vitamin B9), and vitamin E. It's important to remember that many nutrients are in the peels. The peels have more vitamin C and antioxidants than the flesh. The antioxidants phenolic and flavonoid are highest in the peels.
Nutrients in Lemons
Lemons are very rich in vitamin C. They have enough vitamin C to boost your immune system and fight off a cold. This is why lemon juice in hot water is recommended if you have a sore throat. Lemons also contain vitamin B6, iron and potassium.
Nutrients in Honey
The vitamins and minerals found in honey vary and depend on the floral source. Honey may include riboflavin (vitamin B2), niacin (vitamin B3), pantothenic acid (vitamin B5), calcium, copper, iron, magnesium, manganese, phosphorus, potassium and zinc. Honey also contains polyphenols that can act as antioxidants. Antioxidants perform the role of eliminating free radicals, which are reactive compounds in the body.