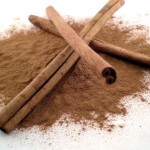 The traditional Food Pyramid, does not include herbs and spices. However, the ayurvedic diet recognizes herbs and spices for their many health benefits, especially the health benefits of cinnamon.
Cinnamon has many health benefits
Recent studies show several positive health benefits of cinnamon, but its secrets have been known for centuries. Cinnamon is one of the oldest known spices and grows in countries like India, Sri Lanka, Egypt, Indonesia, Vietnam and Brazil. The Egyptians used cinnamon in embalming their dead, and during the Middle Ages cinnamon was mixed with cloves and water to help protect against Bubonic Plague.
Cinnamon is used as Remedy in Ayurvedic and Chinese Medicine
Cinnamon is considered a great remedy for common cold and irritating cough. The traditional medicinal system Ayurveda, developed in India, uses cinnamon for colds and indigestion. The traditional Chinese medicine also uses cinnamon for colds and diarrhea, as well as for painful menstrual periods and nausea. Furthermore, the Chinese medicine uses cinnamon to improve circulation when suffering from cold feet and to improve energy and vitality.
Antibacterial Properties of Cinnamon

Studies have shown that solutions made with cinnamon oil have bactericidal abilities on par with antiseptic solutions currently used in hospitals. Cinnamon based solutions have been effective against hospital acquired infections from organisms such as MRSA or methicillin-resistant Staphylococcous aureus.
Anti-inflammatory Properties of Cinnamon

Cinnamon has strong anti-inflammatory effects. One half teaspoon of cinnamon daily can provide a relief in arthritis pain in just one week, according to a study in Denmark. This anti-inflammatory effect is also important in reducing heart disease and stroke risk. Cinnamon protects against heart disease by improving blood circulation, and thereby ensures a consistent oxygen supply to the cells.
Cinnamon is a Brain Booster
Cinnamon is a real concentration booster. It can help you improve your memory and increase your test scores. Studies show that you just by smelling the cinnamon, you may gain the concentration benefits.
Cinnamon Reduces Blood Sugar Levels
According to studies, cinnamon reduces blood sugar levels; increases insulin levels and improves good (HDL) cholesterol versus bad (LDL) cholesterol ratios. This dynamic combination of benefits can potentially prevent the development of full diabetes.
Add some Cinnamon to your Diet
If you want to gain the health benefits of cinnamon, add some cinnamon to your daily diet. Try sprinkling cinnamon on oatmeal, cereals and toast, or in your tea, coffee or cocoa. Don't overdo it though. Too much cinnamon can cause digestive problems, increased heart rate and increased perspiration. People with liver disease should also be careful, according to the National Institute of Health. Diabetics having too much cinnamon could find their blood sugar levels drop dangerously. 1-6 grams of cinnamon is enough to experience health benefits, according to a small clinical study in Pakistan, published in "Diabetes Care", December 2003.
1/2 teaspoon of Cinnamon is all you need
To lower your cholesterol, regulate your blood sugar, and boost your memory, just add 1/2 teaspoon of cinnamon to your diet – that's all you need, according to studies.