Oregon based company Reser's Fine Foods, Inc have recently issued a food recall. Reser's Fine Foods, who manufactures and distributes fresh and frozen prepared foods, sent a press release announcing a possible health risk for certain refrigerated salads.
The recall was issued due to a notification received from one of their suppliers who provides the ingredients used in the salads. It was stated in a press release that Listeria monocytogenes could be present in the products. It seems like the problem lies in a batch of onions used in the manufacturing process of the salads may carry the Listeria bacteria. The bacteria can cause serious problems in young children, elderly people, and pregnant woman.
A total of nineteen different products are affected by this recall and they are both retail products and foodservice products, which are used for commercial use. Some of the affected salads include:
Reser's Deviled Egg Potato Salad
Reser's Potato Salad
Reser's Macaroni Salad
Stonemill Kitchens Classic Potato Salad
Safeway Deviled Egg Potato Salad
Safeway Classic Potato Salad
Safeway Tuna Salad
Walmart Redskin Potato Salad
Savemart Potato Salad
Sysco Elbow Macaroni Salad
Safeway Tuna Salad
FSA Potato Salad
Note that the above list is just the type of salad affected, you still need to check for the UPC code, its size, and expiration date. For that, you should visit FDA's website for a complete list together with images of the products.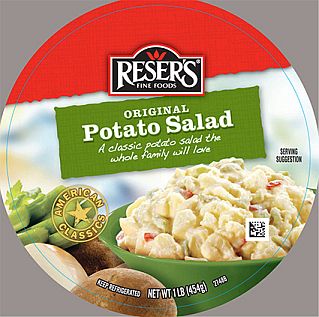 If you are in the possession of any of the products from the FDA's website, you are urged not to consume them. Instead discard them or claim a refund. For more details you should call 1-888-257-7913, which is the number to Reser's Fine Foods Consumer Hotline.
This is not the first time Reser's Fine Foods is recalling food due to possible Listeria monocytogenes contamination. In December of 2015 a potato salad was recalled. Another incident was in 2013, where lots of products had to be recalled.