For those who eat tuna, you may want to read this. California based Bumble Bee Foods did announce today that they are recalling three specific types of canned tuna. If you have bought "Chunk Light Tuna" with the following UPC codes you should be concerned:
1. Label UPC: 8660000020 – 5oz Bumble Bee Chunk Light Tuna in Water
2. Label UPC: 8660000021 – 5oz Bumble Bee Chunk Light Tuna in Oil
3. Label UPC: 8660000736 – 4 Pack of 5oz Bumble Bee Chunk Light Tuna in Water
If you have tuna with matching UPC codes, visit Bumble Bee's website to see full  list of the specific can codes affected.
The tuna is being recalled voluntarily by Bumble Bee Foods. This is done because of some packaging deviations discovered in a co-pack facility, which is not own or operated by Bumble Bee Foods, LLC. The deviation seem to have been discovered in the sterilization of the tuna. This is an important part of the whole tuna processing. If the sterilization process is not done correctly, it could lead to serious health problems if the tuna is consumed. No reports of illnesses have yet been reported in connection with the related products.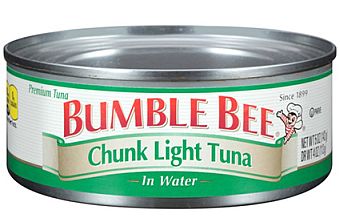 Bumble Bee Foods will in total recall 31,579 tuna cases. The tuna was produced last month and distributed nationwide. Bumble Bee, the FDA, and the co-packer is working closely together organizing the removal of the tuna from the stores. If you have bought any tuna with matching can codes that are being recalled, you are advised to throw them away. For reimbursement, you should retain the label and contact Bumble Bee's Consumer Affairs team.
This is not the first time Bumble Bee Foods recalls tuna. In 2013, a voluntary recall was issued for "Chunk Light Tuna" and "Chunk White Albacore".