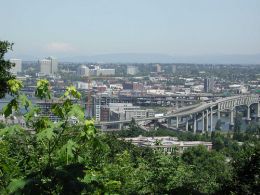 Reducing our carbon footprint is an important element of saving the planet, and there are several green cities locations where the community has focused on steps that can be taken to create programs for the residents of these green cities. Many of these green cities have setup community efforts and processes that make it easier for the community members to live an environmentally friendly lifestyle.
Some of the programs that have been implemented by these green cities include: improving water and air quality, allowing accessibility to local products, setting up efficient waste management and recycling programs, encouraging clean transportation, and devoting plots of land for green space.
According to MNN.com, the top 10 green cities in the United States are:
1. Portland, Oregon: Portland is at the top of the green cities list, it is known as the best city in the US to travel by bike, and it has over 200 miles of bike lanes to decrease pollution. The city also offers classes to teach people how to garden and find sustainable food sources.
2. San Francisco, California: San Francisco has implemented a big solar power program, as well as a recycling program to cut back on waste. Also, San Francisco has banned the use of plastic grocery bags, and encourages consumers to bring their own reusable bags instead.
3. Boston, Massachusetts: Boston has been working to replace the taxis with hybrid cars, install solar panels for energy, and use recycled trash for energy creation. Additionally, the use of electric motorbikes is encouraged to cut down on pollution.
4. Oakland, California: Oakland is well known for the availability of organic, local food sources. Also, the public transit system is powered by hydrogen and 17% of the cities energy comes from renewable sources.
5. Eugene, Oregon: Number five on our list of green cities is Eugene, which has a great public transportation system and many people in the city ride bikes instead of driving cars. There are over 150 miles of bike paths in the city, making it easy to get around without increasing pollution.
6. Cambridge, Massachusetts: Cambridge is known to be the "best walking city," and it is a great place to cut down on the use of transportation. The city is also focused on energy efficient buildings, and all new construction must comply with "LEED" standards.
7. Berkeley, California: Berkeley is a great place to find local, organic restaurants and food. The city also has programs in place to implement solar power, wind power, hydropower, and biofuels.
8. Seattle, Washington: Seattle has a program to encourage LEED-certified building, and there are now 20 buildings that meet the LEED certification requirements. Additionally, they offer a program to incentivize residents and businesses to install solar power panels.
9. Chicago, Illinois: Chicago has a beautiful greenbelt around the city area, and it also has a program called the "Chicago Green Roof Program" that encourages plant growth on building roofs. It is estimated that there are over 2.5 million square feet of roofs that have plant life in Chicago.
10. Austin, Texas: Finishing out our list of green cities, Austin has 206 parks, 50 miles of trails, 12 preserves, and 26 greenbelts. The city's goal is to be carbon neutral by the year 2020.